Winner 2009
The Whole Diploma Class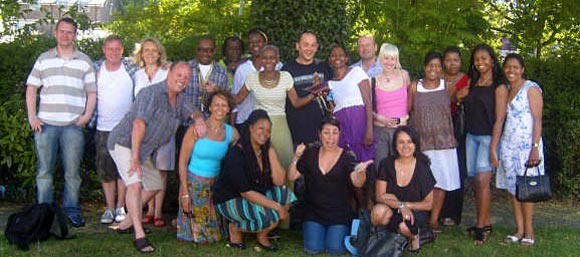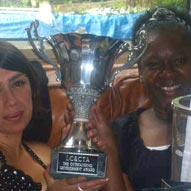 Gemma and Jacqui accept the cup
This year the entire HPD in Counselling Class of 2009 were presented with our Outstanding Development Award. This group of 20 students acheived a great deal both as individuals and as a group. Their many successes included:
Winning acceptance to present 2 Group Research Projects at the BACP National Research Conference held in Portsmouth during May 2009; one of these projects was rated by the attending delegates to be in the top three presentations at the conference.
14 students passed the course with an overall Distinction Grade and 6 students passed the course with an overall Merit Grade; phenomenial results.
2 students decided to continue with their studies as newly qualified counsellors and were directly accepted by the same University to proceed onto an MA in Counselling & Psychotherapy course of study.
4 students were offered part-time/sessional employment at their training placements as they qualified which demonstrates the extremely high levels of professionalism and skill these students had attained during the training process.
With her Professional Counsellor Qualification under her belt, another student applied for a managerial position in Youth Work (her area of expertese), successfully winning the post. She considerably increased her salary and sphere of responsibilty and will be providing an exciting new multi-disipline service for young people who are experiencing difficulties in their lives.
All 20 students received an LC&CTA Award Certificate which, along with their publicly presented research work can be added to their CVs, thus greatly enhancing their achievement dossier.