Winners 2010
Ambrose Gillham & Linda Hafez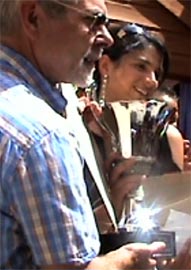 These two students were our joint 2010 winners of the Outstanding Development Award voted for by both class peers and tutors.
Ambrose Gillham
Ambrose developed in many ways both personally and professionally during his 2 years of study on the foundation courses we offer. He has now been accepted to train to become a Counsellor and will be a student on our Higher Professional Diploma course starting in September 2010.
Linda Hafez
Linda overcame many personal difficulties whist training to become a Counsellor on the HPD in Counselling course but her commitment to her personal and professional development never wavered. Her achievements include:
Becoming a successful Study Buddy with us and being accepted onto a Teacher Training Programme at Lewisham College; she will begin this training in September 2010.
Being offered a professional post at her Training Agency on becoming a qualified Counsellor.
Gaining an overall Distinction Grade in the Higher Professional Diploma this year on qualifying.