2011 National Research Success
For the sixth year in a row sub-groups of our students from the Higher Professional Diploma in Counselling, successfully delivered their Research Papers in Poster Presentation format at the annual bacp National Research Conference, held during May in the vivacious City of Liverpool.
THE RESEARCH PROJECTS/PAPERS and AUTHORS
'What impact, if any, does diet and nutrition have on a person with bi-polar disorder and what are the implications of this on psychotherapeutic practice?'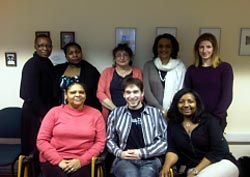 Back Row Left to Right: Ruth Davis/ Ann Levene/ Mary Lewis/ Helen Strutt/ Vicki Badham Front Row Left to Right: Evanne Constantine/ Wesley Freeman-Smith/ Bev-Elise Carpenter
'Is Dieting a socially accepted form of eating disorder, if so, how does this effect counselling practice?'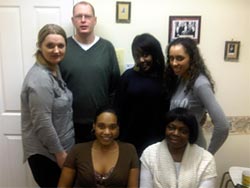 Back Row Left to Right: Liene Paulauska/ Henry Sycamore/ Kamilah Tomlinson/ Kimberley Clarke-Gilgeous Front Row Left to Right: Natasha Boxill/ Nema Adams
'Does disenfranchisement in certain sections of the gay male community lead to increased use of legal and illegal drugs, if so, what are the implications for counselling practice?'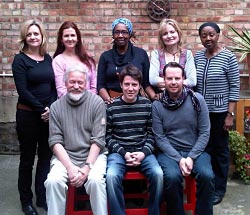 Back Row Left to Right: Rachel Povey; Siobhan McCalla; Beth Thomas; Gill McCaughin; Leitha Tingle Front Row Left to Right: Iain Khan-Gilchrist; Ruairi Lynch; Ryan Roberts
CONGRATULATIONS and CELEBRATIONS

On arrival at the Research Conference, LC&CTA Co Directors, Juanita and Chris (back sofa) and Senior Tutor, Tony (below left) make a Champagne toast to and celebrate our students' research achievements.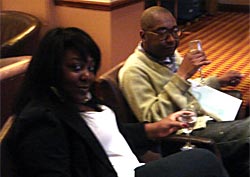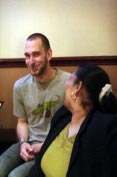 CREATIVELY PRESENTING AT THE CONFERENCE ASSEMBLY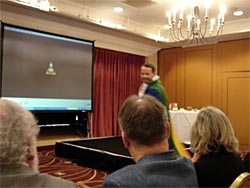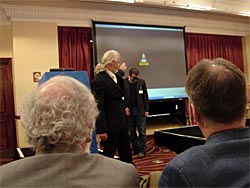 During the conference the Research Poster presenters are given a short time to address the entire conference assembly in order to generate interest in their findings. Our students usually develop highly creative ways of introducing their research; as these photographs, and especially the video clips below, demonstrate.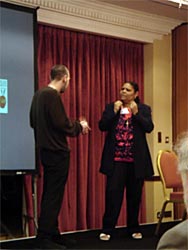 OUR STUDENTS and THEIR RESEARCH POSTERS in SITU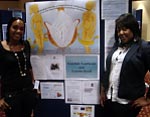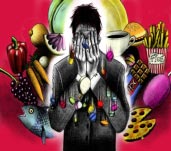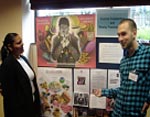 The Bipolar Poster was hand painted by the talented, Wesley Freeman-Smith (above right).
AROUND AND ABOUT CONFERENCE AND THE CITY OF LIVERPOOL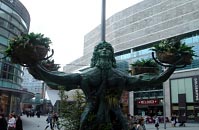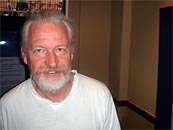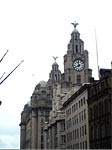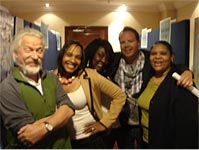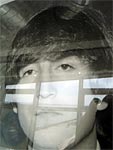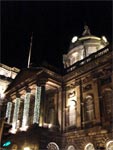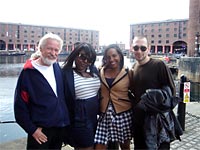 The students visited 'The Cavern' where John Lennon and the Beatles began their music careers.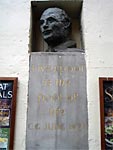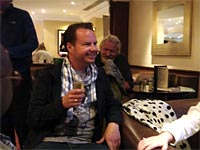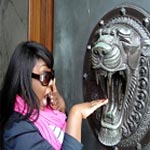 Carl Gustav Jung, once the closest colleague of Freud, called Liverpool 'The Pool of Life' (Jung, 1927).

THE CONFERENCE DINNER and DANCE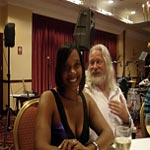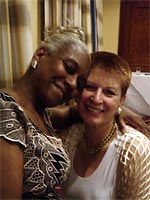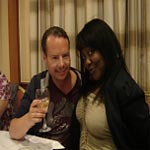 These photographs of our students and Chris and Juanita (Co Directors) at play, demonstrate the closeness of the relationships which, we feel privileged to say, characterise the teaching and learning experience the students and tutors build together at LC&CTA.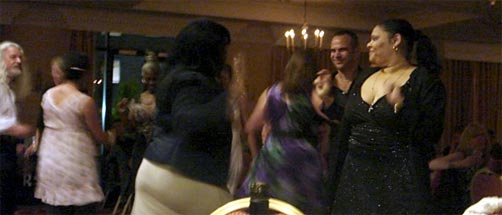 Evanne (far right) gets into the groove to the right of Professor Mick Cooper (Strathclyde University) as he stylishly twirls Angela Couchman (bacp Conference Organiser) round the dance floor. Iain can just be seen (far left) impressing his dance partner with his innovative 'highland' moves.
TOO TIRED ON THE WAY HOME: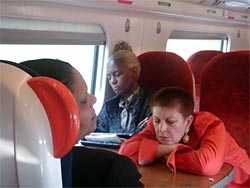 Simply worn out by all the activities during the Conference weekend, Juanita and Chris (Co Directors) and Evanne (Presenting Student) fall asleep on the fast train back to London.